Judy Garland and Liza Minnelli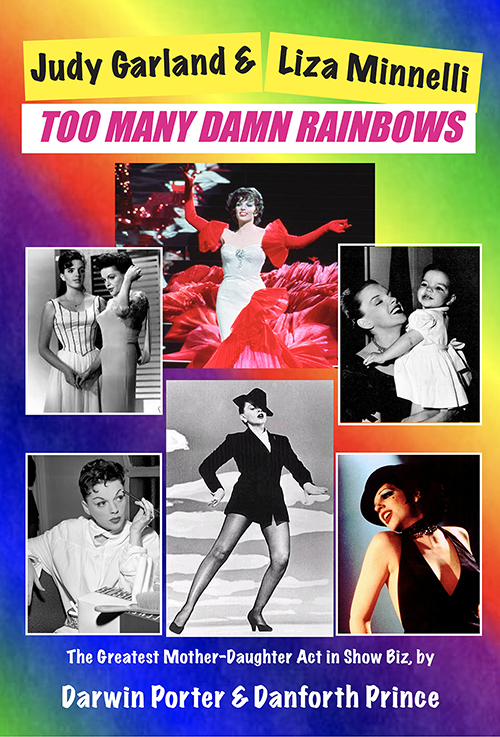 Too Many Damn Rainbows
Darwin Porter & Danforth Prince
"You've got only one life to live, so make it a hell of a ride." (Judy)
"What good is sitting alone in your room?" (Liza)


Judy Garland, an icon whose memory is permanently etched into the American psyche, continues to thrive as a cult goddess. Revered by thousands of die-hard fans, she's the most poignant example of both the manic and depressive (some say "schizophrenic") sides of the Hollywood myth.
With her oldest child, Liza Minnelli, she emerged as the greatest, most colorful, and most tragic entertainer in show biz history.
As a mother-daughter team, they live, laugh, and weep in the tear-soaked pages of this remarkable biography from the entertainment industry's most prolific archivists, Darwin Porter and Danforth Prince. Buttressed with eyewitness reports from friends, frenemies, and enemies, it's a compelling "post-modern" spin on their years together prior to Judy's death in 1969. As MGM's tap-dancing Ann Miller predicted, "It's unlikely that the world will ever see the likes of these two ever again."
According to Liza, "My mother―hailed as the world's greatest entertainer―lived eighty lives during her short time with us."  With deference for Judy's status as a spectacularly talented and wounded genius, this book addresses, with love but without apology, most of them.
Their stories unfold through eyewitness accounts of the typhoons that engulfed them. They swing across glittery landscapes of euphoria and glory, detailing the betrayals and treachery which the duo encountered almost daily. There were depressions "as deep as the Mariana Trench," suicide attempts, and obsessive identifications on deep psychological levels with their respective roles. Fueled by klieg lights and rivers of negative publicity, there were also some jealous actress-to-actress rivalries which, as Judy declined and her malaise increased, sprouted like malevolent mushrooms on steroids.
Eventually, Liza roaringly emerged as a star in her own right. "I did it my way," Liza said. She survived the whirlwinds of her mother's drug addiction with a yen for choosing all the wrong men in patterns that weirdly evoked those of Judy herself.
The story of their years together includes tantalizing details about Judy's show-biz mania, her lovers and husbands, especially the acclaimed director, Vincente Minnelli, famous for his steerage of schmaltzy classics (Meet Me in St. Louis, Gigi, and An American in Paris). Before dumping him for a unfulfilling roster of "Men That Got Away," Judy complained that he spent more time in bed with Gene Kelly than he did with her.
For millions of fans, Judy will forever remain the cheerful adolescent (Dorothy) skipping along a yellow brick road toward the other side of the rainbow. Liza followed her down that hallucinogenic path, searching for the childhood, the security, and the love that eluded her.
Deep in her 70s, Liza is still with us, too, nursing memories of her former acclaim and her first visit as a little girl to her parents at MGM, the "Dream Factory," during the Golden Age of Hollywood.
Wanna know more about the presuppositions and priorities associated with this book? Click here to listen to a recent radio interview (26 minutes) in which its co-author, Danforth Prince, discusses why Judy Garland retains her grip on the American psyche—more than a half-century after her death, and almost a century after her birth—as a cult goddess and historic icon. 
Details
Paperback 978-1936003-69-3  
Trim size 6x9 Ppg 734 with 110 B&W photos
Price $39.95
Available in July 14, 2020 through internet purveyers that include INGRAM SPARK, and Amazon.